Interesting facts about tornadoes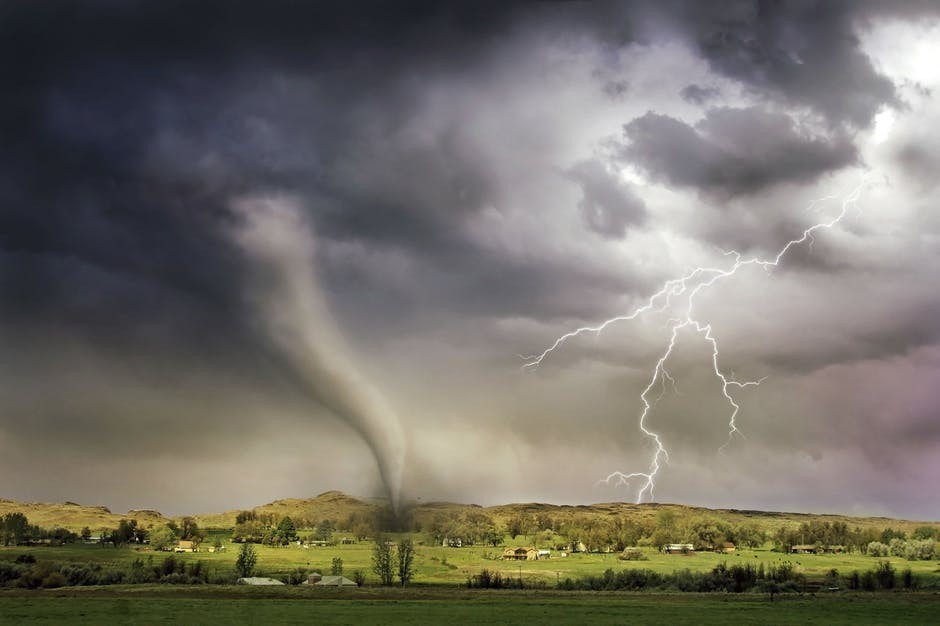 How to prepare for a tornado
During the last two years, I have had three tornadoes pass within a mile of my house. I figured it would be in my best interest to find out more about tornadoes and I am sharing some of my findings with you. I am not an expert in this area, but I did find some interesting facts about tornadoes.
Tornadoes are some of the most misunderstood events of natural weather phenomena. They can be some of the most powerful and destructive forces of nature man has ever witnessed. There is still so much that we do not know about the cause and actions of a Tornado.
What we do know
Facts usually mean things that we can prove. Most of the science we have about tornado models is a result of computers, that in the span of time haven't been around for that long. When it comes to predicting tornadoes most of what we know we gathered from historical observation for patterns. It is pattern models the computers look for, that help warns us to the dangers of tornadoes.
The United States of America ends up playing host to more tornadoes than any other country. We average around 1,000 to 1,200 a year. The reason for this happens to be the cold, dry Canadian air likes to cause havoc when it dances with the warm moist air from the Gulf of Mexico. This is why the Midwest and southern states tend to have more tornadoes than the northeastern states. Tornado Alley as it is affectionately called spans the Midwest to down south, and seems to follow the flow of the jet stream.
Here are a few interesting facts about tornadoes:
Tornadoes are rotating funnel-shaped clouds
Tornadoes have an average land speed of 10-20 miles an hour
Tornadoes can stop and then backtrack or seem to go in reverse
It is possible for tornado winds to exceed 300 miles per hour
Tornadoes can happen any time of year though they occur mostly during the spring and summer
warning signs include dark greenish skies, Hail, low hanging or spinning clouds, sounds like a train
Tornadoes are invisible like any other wind, it is only the debris that we see that allows us to spot them
Tornadoes can be called twisters but if they happen over water they are called a waterspouts
Majority of tornadoes travel from the Southwest heading Northeast
Tornadoes have a rating system from EF0-EF5
Enhanced Fujita Scale Chart
Enhanced Fujita Scale measures wind speed and likelihood of damage of a particular tornado. The scale started in February of 2007 and it assigns an EF (Enhanced Fujita) number to tornadoes. The range from EF0 to EF5 is from weakest to strongest in intensity.
EF0

Wind speeds from 65-85 MPH
Very little noticeable damage

EF1

Wind speeds from 86-110 MPH
A moderate amount of damage

Peels roofs off
Mobile homes moved on foundations
moving cars can be blown off roads

EF2

Wind speeds from 111-135 MPH
Considerable damage

Mobile homes demolished
Roofs blown off homes
Trees broke or uprooted
cars lifted off ground and boxcars overturned
Light objects become missiles

EF3

Windspeeds from 136-165 MPH
severe damage

Tornadoes are a force of nature!

Walls as well as roofs destroyed on houses
Can knock trains over
Cars can be thrown

EF4

Windspeeds from 166-200 MPH
Devastating damage

Houses completely leveled
Structures with weak foundations blown away
Large objects become missiles
Cars can be thrown

EF5

Windspeeds 200+ MPH
Incredible damage

Whole houses destroyed and swept away
Car size missiles thrown farther than a football field's length
Trees debarked like they were in a sandblaster
Ability to destroy everything in its path
Warning signs
The National Weather Service is in charge of issuing warnings when atmospheric conditions look like they could produce tornadoes. When weather is severe it increases the chances of a tornado. Weather warnings come from the TV, radio, and finally tornado sirens.
There are other services offered to the members of the deaf community. Weather radios with flashing lights and a message screen can be purchased, but they are becoming more and more obsolete by smartphones that the deaf community can receive the same emergency text messages as everyone else.
The different types of warnings are:
Tornado watch- This warning is issued when the atmospheric conditions are right for the forming of tornadoes. This is the warning when there could be a tornado.
Tornado warning- Issued when the Doppler radar detects cyclonic action in a thunderstorm or clouds, or if a weather watcher has spotted a funnel. This is the warning when there is a verified tornado sighting.
Tornado emergency- This is a term coined in 1999 by weather forecasters to mean a large tornado is moving into a heavily populated area. Large amounts of damage and fatalities are considered likely with this type of tornado.
Weather changes hourly in the Midwest. We always joked in Missouri that if you didn't like the weather just wait an hour, it will change. Keep watch on the days forecast and when there is bad weather expected, avoid situations where you would be left defenseless against the storm. Watch for the warning signs listed before like hail, greenish skies, rushing wind, flying cows, and chicks named Dorothy.
How to prepare for a tornado
The sheer destructive nature of a tornado makes it impossible to rage against and win. Another interesting fact about tornadoes are, you can not drive your bug out vehicle into the storm and expect to come out of it unscathed, much less alive. It is like trying to play chicken with a train.
There are a few things you can do to prepare for a tornado.
Have your everyday normal prepping stockpile on hand in case of a tornado that misses your house but cuts off needs like lights and gas.
When choosing a place to live, pick a house with a basement or storm shelter.
If you buy a house without a basement put in a storm shelter if possible.
Have access to gloves, eye protection, chainsaws, trucks, and manpower for cleanup.
Have as full of a tank of gas in your vehicle during storm season as possible.
Buy flashlights to use during a power outage as gas leaks can happen during a tornado.
Practice an emergency plan with your family for what to do during or after a tornado.
The does and don'ts when faced with a tornado
DO:
Get to the lowest point of the house.
Drive away from the storm if possible.
Get out of the car if not going to be able to avoid the tornado.
If outside try to find a safe place inside a home or storm shelter.
Leave a mobile home. It is safer outside.
If stuck outside in a field, lay flat on the ground in the lowest point possible, and cover your head with your hands.
If the house has no basement lay in the center of the house or in a bathtub with a mattress over yourself.
Avoid the Southwest corner of your house. It most likely would be the first side of your house to be hit by the tornado or debris.
Stay away from windows to avoid flying glass.
Avoid parts of the basement directly under major appliances like a refrigerator in case it comes through the floor.
Avoid shelves or other items that could fall on you.
DON'T
Light candles as there can be broken gas lines.
Look out or try to open windows. Avoid flying glass.
Walk outside to look.
Take selfies with the tornado.
Use elevators as you can become trapped with no electricity.
Stay in your car. The vehicle can be thrown and flattened.
Stand up in the house. Get as low as possible.
Enter unstable structures. Leave that to the professionals.
Tie up phone lines with non-emergency calls.
Conclusion
One of my parent's favorite stories to tell about me is the time we were all in the basement with a tornado going by. I must have been two years old. I was praying out loud, "Dear Lord, Don't let the tomato get me!" To this day, that tomato has not gotten me. Let me know what you think I left out, or share your own experiences with me in the comments section below.
-D.W.Mann